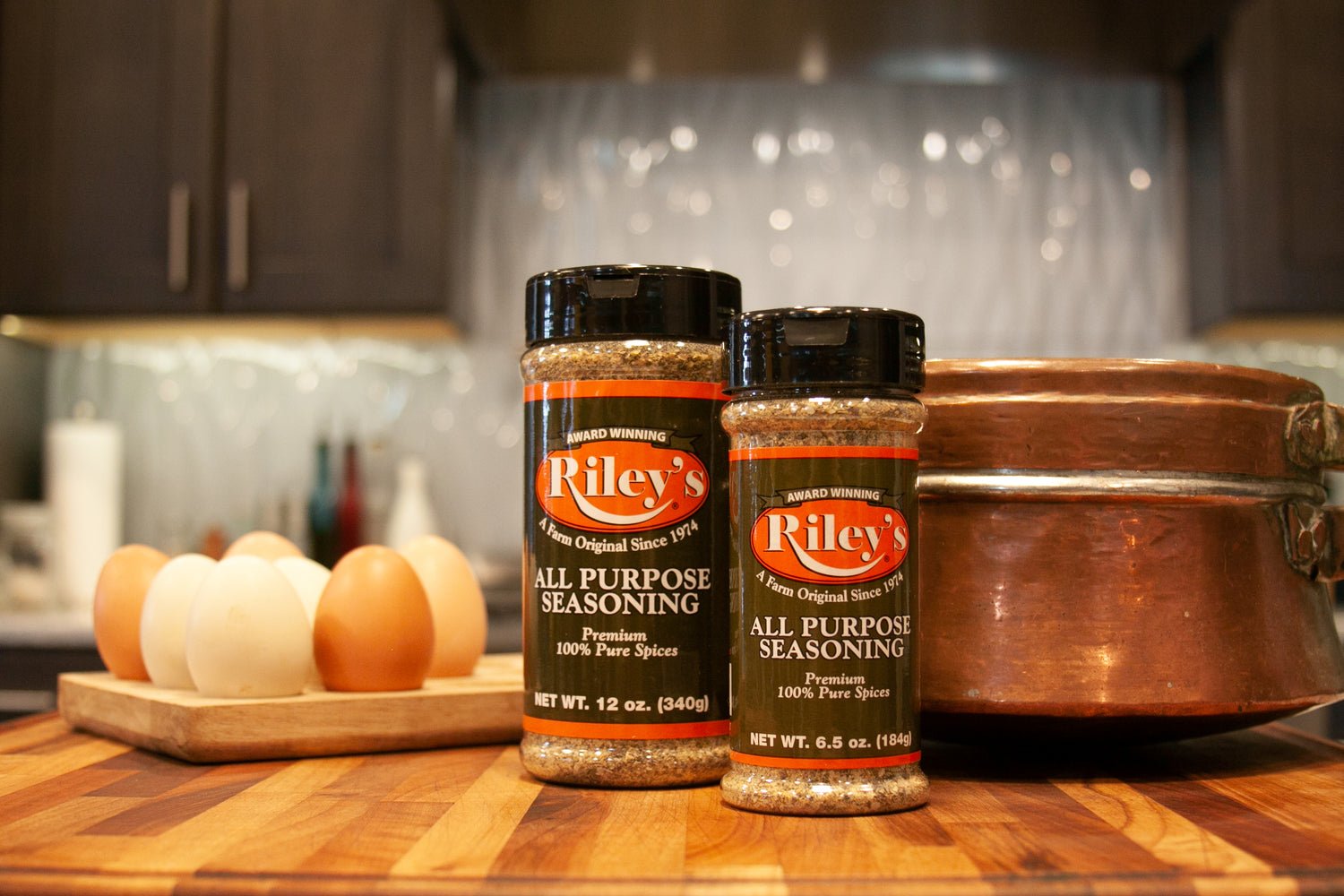 OUR BRAND
All Natural Premium Seasonings And Spices
Riley's Premium Seasonings and Spices is a family owned and operated business that was started nearly 35 years ago. Our recipes were developed in the farmhouse kitchen of Mr. Riley and throughout the years only grew in popularity. In 2002, Riley's Seasonings teamed up with The Illinois Pork Producers at the Illinois State Fair. They introduced the Pork Chop on a Stick TM with the Riley's All-Purpose Seasoning. The Illinois Pork Producers won 1st Place with the best new food at the fair, selling several thousand in 2002 and 2003.
"By using Riley's Seasoning on the Chop on a Stick TM we produced one of the most delicious popular pork item that the Illinois State Fair has seen in some time. The popularity of the product was overwhelming and I am convinced that it was the seasoning that made the difference!"
Mark A. Gebhards
Executive DirectorIllinois Pork Producers Association 2002
Riley's products can be found in many grocery stores and Illinois Farm Bureau outlets throughout the state. Riley's products are also sold in several Sam's Clubs and WalMarts in the midwest. Riley's Seasonings are available in both retail and wholesale pricing.
Today cooks from all over the country are using Riley's Premium Seasonings and Spices for their kitchens and restaurants. Riley's Seasonings has been featured in Food Finds, America's best local foods and the people who produce them, and endorsed by the author Allison Engel.
Even with our growth we are still a family-owned business. We pride ourselves in offering you the highest quality ingredients, no fillers, no preservatives, only Riley's 100% pure spices. Custom flavors and mixes are available.
Riley's Seasonings adds a unique flavor to beef, pork, poultry and fish. It enhances the flavor of vegetables, stews, soups, casseroles, appetizers and many other dishes. Whether you cook indoors or out, Riley's requires no marinating or extra prep time. Just sprinkle Riley's on your meat or vegetables and you are ready to go!
Taste for yourself what you have been missing. Try a bottle of Riley's today!
STORES THAT CARRY RILEY'S SEASONING
Selected Stores in the Midwest

Sams's Club
Hyvee
Schuncks
Walmart
County Market
Ackles (New Hartford IL)
Country Market (Springfield IL)
Humpreys Market (Springfield IL)

-Also Sold Online on Amazon
Shipping & Returns
This map shows the expected time-frame for delivery if using UPS Ground Service option for your order. Service Map colors may vary due to differences in hardware and software. This map is a general representation of UPS Ground transit times. If available a tracking number will be emailed to the customer once the order has been processed. You can also view your pending orders or order history by selecting my account on the top navigation bar.
If you receive an order that has incorrect or contains damaged products please contact us at sales@rileys-seasonings.com to request a return label. There will be no additional shipping charged for damaged or incorrect items returned or resending you the product. If you return the product for any other reason, additional shipping charges may apply.
If you have any questions about our shipping and delivery procedures email us at sales@rileys-seasonings.com.